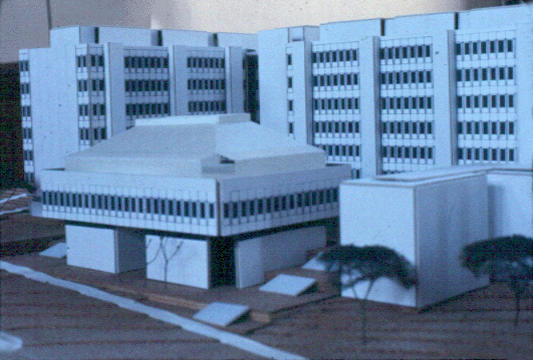 Model of Stewart Biology-- McGill Archives
The Stewart Biological Sciences Building is situated just south of the McIntyre Medical Sciences Building, to which it is linked by an enclosed bridge, and just west of Chancellor Day Hall, formerly known as the James Ross Mansion, which can be reached by crossing a concrete terrace. It was constructed in 1965 in McIntyre Park on the site of what was once Duncan McIntyre's mansion, Craguie, a splendid, turreted Square Mile abode. At the beginning of this project, the Hodgeson house was located in the southwest corner of the chosen site. This building housed the McCord Museum for several years after it left the condemned Joseph House, the current site of McLennan Library, in 1955. In 1971, the McCord Museum was moved to its current location in McGill's old Student Union. Shortly after this, Hodgeson house was demolished and the site was occupied by Stewart Biological Sciences alone.
Stewart Biology was designed by the firm Dobush, Stewart, and Bourke who were later commissioned for many other campus projects including McLennan Library and Rutherford Physics. This structure was designed in two sections. The larger, seven-storey section is L-shaped and contains offices and labs. South of this is the lecture building which features two large theatres, seating 300 and 150 students respectively, that are linked to certain labs in Stewart Biology and McIntyre Medical Sciences by closed circuit television. This allows many students at a time to see a demonstration and saves the professor and teaching assistants having to repeat the procedure several times. The separation of the two units allows the teaching area to bear the burden of heavy traffic in between classes. On top of the teaching unit is a large conservatory where plants are housed for study. This undecorated complex is constructed of precast concrete panels over a steel frame. The exterior is of a texture and colour that matches the older structures on the campus.