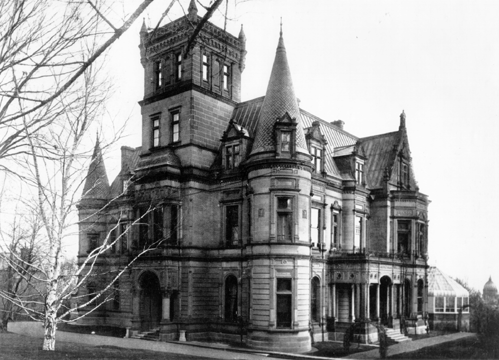 "Craguie" -- Notman Archive (McCord Museum)
In the 1880's, Duncan McIntyre, one of the wealthy founders of the Canadian Pacific Railroad, commissioned William Thomas to design a mansion for him at the top of Drummond Street, the heart of the affluent Square Mile. The house, which could easily be pictured on a misty moor, was Romanesque Scottish Baronial in style and featured several conical towers, a steeply pitched roof, and a large, square central tower which dominated the main entrance.
Craguie, as it has been named, was demolished in 1930 and in 1947, the estate was donated to McGill by the McIntyre family. For years, the site was called McIntyre Park, but, in 1965, McGill needed the land for two new buildings. At this point both the McIntyre Medical Sciences and Stewart Biological Sciences Buildings were erected and still occupy the site today.