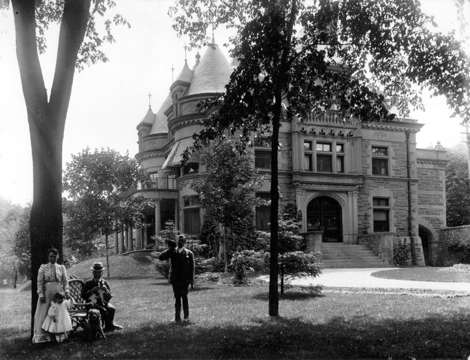 James Ross House -- Notman Archive (McCord Museum)
In 1892, James Ross commissioned Bruce Price, a renowned American architect, who also designed McGill's Royal Victoria College and the Chateau Frontenac in Quebec City, to build a house for him on Peel Street on the Square Mile. Ross was an entrepreneur of the Canadian Pacific Railroad, whose interests included yachting and collecting masterpieces. As such, he was the commander of the St. Lawrence Yacht Club and, later in his life, helped to create the Montreal Museum of Fine Arts. The house, with its two circular turrets and larger central tower, was constructed of Credit Valley limestone and was designed in the French Chateau style. Between 1897 and 1912, Edward and William Maxwell, a pair of well-known Montreal architects, were commissioned to redesign and expand parts of Price's original work. Part of this work involved adding to the mansion an art gallery wing, a breakfast room and bedroom, and several wrought iron and carved details. In 1913, James Ross died and his son, J.K.L. Ross inherited the house and a considerable fortune. He hired the firm of Trowbridge and Livingston to expand and remodel his late father's home, giving it a more austere, Classical appearance. In 1935, having spent all of his fortune on parties, horse racing, and yachts, J.K.L. Ross went bankrupt and the house was sold for a mere $51,000.
John W. McConnell bought the Ross Mansion in 1948 as a gift to McGill. At this time, it was renamed Chancellor Day Hall, after one of the University's first Chancellors, and was given to the Faculty of Law, which still occupies it today. In 1966, the firm of Bland and Lemoyne erected a six-storey, precast concrete tower just west of Chancellor Day Hall and connected to it by a corridor. This extension, which blends with the adjacent Stewart Biological Sciences Building, provided more classrooms and library space.
Back to Main Menu

Browse nearby buildings

Built 1892
Architect - Bruce Price
Donor - John W. McConnell
Current use - Faculty of Law


---


Art gallery in Ross House
-- Notman Archive (McCord Museum)





Drawing room composite (1876)
-- Notman Archive (McCord Museum)