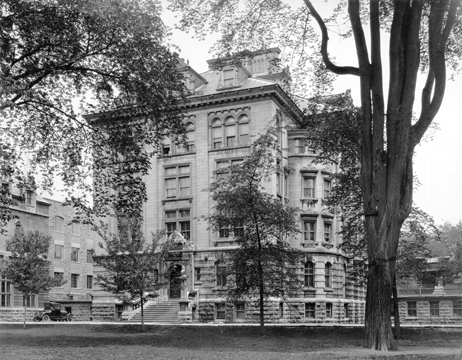 Macdonald-Harrington Building exterior view -- McGill Archives
The Macdonald Chemistry Building, recently renamed the Macdonald-Harrington Building after its first Chemistry professor, Bernard Harrington, was built between 1896 and 1897 and was one of the many donations made to the University by Sir William Macdonald. Sir Andrew Taylor, the architect of many buildings on campus, was commissioned for this project along with his current partners, Morley Hogle and Huntley Davis. Built just after the Redpath Library, the first Macdonald Engineering Building, and the Macdonald Physics Building, the Macdonald Chemistry Building is a typical example of Taylor's work. It has a symmetrical, Classical Italian, facade, the exterior being of Montreal limestone to match the rest of the campus. The ground floor is rusticated, but above this point, cut stone is used. Like Taylor's other structures, Macdonald Chemistry is very functional, yet is not without ornament. It is constructed of steel, brick, and wood on the interior. The steel beams are exposed, as they were in Taylor's Redpath Library stacks, yet share the load with thick, brick walls and partitions. Brick is used for walls and all major doorways are arched as in Macdonald Physics.
Most of the ornament of the building is concentrated around the facade, for instance the lions, each holding a shield, perched on each pillar in front of the central stairs. Other developed details occur around the windows and in the doorways. Originally, Macdonald Chemistry possessed a library which featured many trimmings and details.
In its early days, the two basement levels housed the Metallurgy and Mining Labs, while the rest of the building was given to the labs, lecture rooms, and offices of Chemistry. The third floor housed labs for organic and industrial chemistry, a balance room, and a combustion room. The fourth floor held mineralogy labs, the Geological Services Library, and a geology lecture room. These fields were, at this time, considered part of Chemistry.
In 1957, a two-storey extension was constructed on the north side of the building to provide more lab space for the expanding department. In 1987, the entire structure underwent major renovations, carried out by the firm ARCOP. This was done to prepare the edifice for its new inhabitants, the Schools of Architecture and Urban Planning. It was during this renovation that the Renaissance domestic stained glass panels, discovered in the Hosmer House, were installed in the glass walls of the reception offices. Today, part of the Mining and Metallurgy Faculty is still in the basement, but the rest of the building houses the Schools of Architecture and Urban Planning.