Project Overview
Building Canada: A Selection from the John Bland Collection of Images of Canadian Architecture

Early in his long and distinguished career at McGill University, Professor Emeritus John Bland developed a pioneering course devoted to the study of architecture in Canada. In the 30 years in which he helped shape two generations of students, John Bland tirelessly promoted interest in the history of Canadian architecture. During his tenure as educator and director of the McGill School of Architecture (1941-1972), Professor Bland assembled a unique collection of slides of buildings from across Canada. This collection has became a rich source of documentation on our built heritage and the foundation for the website Building Canada.
The selection of images and textual overviews were derived from the methodology employed by Professor Bland during his tenure at McGill. Features such as a Pop Quiz and a Glossary have been added to assist Web users in understanding the special terminology used in architecture.
Each image is identified by a title and location. Where applicable, the name of the architect and the date(s) of construction are cited. Many images such as views, or examples of vernacular architecture, appear without the name of an architect. Users wishing to comment or offer additional information on any of the images are asked to contact the Canadian Architecture Collection, at McGill University, the trustee of the John Bland archive.
The Building Canada team that developed this site included 9 Montreal-area students from various backgrounds. The team was lead by Irena Murray, Head of the Blackader-Lauterman Library of Architecture and Art at McGill University, and Percy Johnson, the professional associate responsible for the Canadian Architecture Collection, the archival component of the Blackader-Lauterman Library. They provided the direction for the overall development of the site. Specific tasks carried out by the students ranged from the digitizing and enhancing of images to the verification of names of buildings and locating the dates of construction. The team members were introduced to the technical aspects of creating a website and they will take with them the new skills that they have learned. It is indeed a fitting testimony to the tireless work done by Professor Emeritus John Bland that this group of students not only learned about the potential of the information highway but has also developed a fuller appreciation of Canada's built environment.
The Project leaders and the team of Building Canada would like to express their gratitude to the staff of Industry Canada for their assistance. Also the guidance offered by Ingenia was very helpful for the technical aspects of Website creation.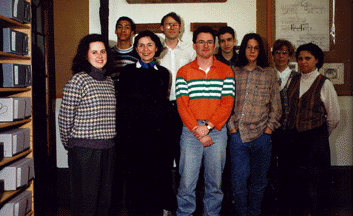 Front row: left to right are Daniella Rohan, Irena Murray, Percy Johnson, Antoine Cloutier-Bélisle, and Rita Sousa. The back row includes Daniel Orsmby, David Johnson (Web Design and Webmaster), Lav Crnobrnja, and Nicole Trudel. Members of the team not shown are Jennifer Singer, Sylvain Pimparé, Desmond Lam, Nathalie Senécal, and Erica Goldstein.


Canada's Digital Collections
---