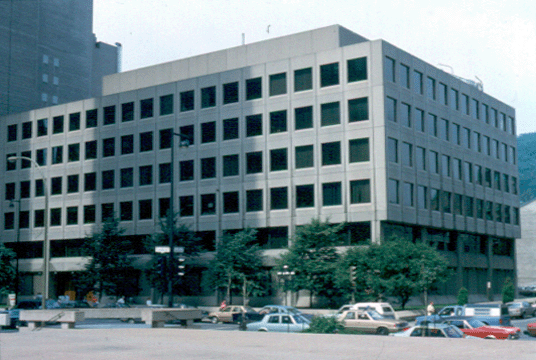 Samuel Bronfman Building -- McGill Archives
The Faculty of Management, once known as the School of Commerce, was originally located in the Arts Building. In 1942, John W. McConnell, a dedicated benefactor of McGill, bought Purvis Hall, located on Pine near Peel Street, for the School of Commerce and the Faculty of Law. George H. Duggan donated his upper McTavish Street house to the University in 1944 and after 1946 it was occupied by the School of Commerce, yet the school was still short of space. Welcome relief came in 1964 when the Departments of Economics and Political Science moved into the newly erected Leacock Building, but the School of Commerce and the Graduate School of Business kept growing.
In 1971, Samuel Bronfman, one of McGill's most loyal contributors, came to the rescue. He gave McGill an edifice, named in his honor, to house the newly opened Faculty of Management, formerly the School of Commerce. The site chosen for the Bronfman Building was at the northwest corner of Sherbrooke and McTavish, the location, until that time, of the Prince of Wales Terrace, one of the city's most prestigious set of row houses. Chadwick, Pope, and Edge, were the architects who designed the new six-storey structure, which rests solidly on a reinforced concrete frame. Identical, precast, concrete slabs are attached to the exterior, giving the facades a very regular appearance. To break this repetitive pattern, the ground floor is covered in striated concrete slabs and the second floor has only windows between the imposing columns. Overall, the exterior works well in combination with the McLennan Library, just across McTavish Street. The interior provided much needed classrooms, meeting rooms, offices, and a library for the Faculty of Management with space left over for the Departments of German, Hispanic, and Italian Studies. The Bronfman Building is expected to continue serving McGill well into the future.
Back to Main Menu
Browse nearby buildings
Built 1971, still standing
Architects - Chadwick, Pope, and Edge
Donor - Samuel Bronfman
Current use - Faculty of Management, Departments of German, Hispanic, and Italian Studies

---