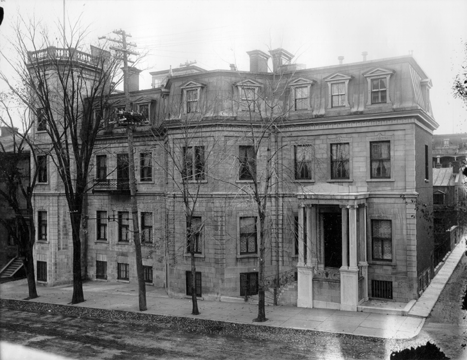 Exterior (1904) -- Notman Archive (McCord Museum)
In 1886, Alfred Baumgarten, a wealthy, German sugar tycoon who loved horses and the hunt, yet also donated generously to Montreal's museum and hospitals, designed a house for his family on McTavish Street. Three out of eight houses of Rupert's Terrace were demolished to create a site for the Baumgarten house. This mansion, in the Square Mile area of the city, although it possessed a rather plain exterior, was replete with detail and decoration in its sumptuous interior. One of the outstanding features of this abode was the ballroom, built for Baumgarten's daughters who had just come of age. The ceiling, from which hung several chandeliers, was supported by marble columns, the floor was built on springs to give a boost to the dancers' feet, and a minstrel's gallery at one end was suspended from the ceiling with brass cords. The Gothic Gallery, which spanned two storeys of the house, was made to resemble a German hunting lodge and was covered by an immense, amber-coloured, stained glass skylight.
After Alfred Baumgarten's death in 1919, the house was occupied by his family. McGill bought it in 1926 as a residence for Sir Arthur Currie, who had just been made principal of McGill. In 1935, the house was renovated to become the McGill Faculty Club. At this time, the Gothic Gallery was split into two separate floors, the lower of which is now the main dining room, and the upper of which serves as the billiard room, still covered by the amber stained glass panels. Other than this, the structure of the building and the details of the interior have been preserved and the aura of another century still pervades the rooms.
Back to Main Menu

Browse nearby buildings

Built 1886
Architect - Alfred Baumgarten
Donor - none
Current use - McGill faculty club


---


Gothic gallery
-- Notman Archive (McCord Museum)





Ballroom (1904)
-- Notman Archive (McCord Museum)





Bedroom
-- Notman Archive (McCord Museum)





Drawing room
-- Notman Archive (McCord Museum)