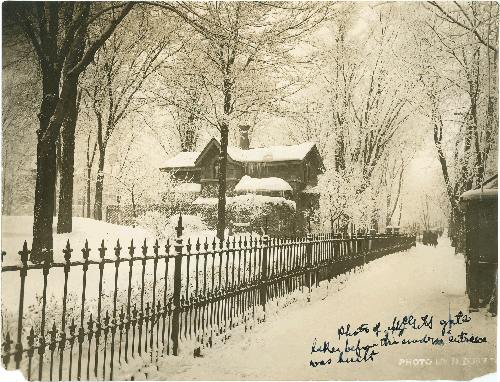 Gatehouse in winter -- McGill Archives
Since the 1860's, McGill has had several gates placed at the main entrance on Sherbrooke Street. In William Dawson's time, there was a picket fence around the whole lower campus area with the gate marked off by arched hedges. Later, the gates were of carved stone lacing. Under Dawson's principalship, a charming, gabled gatehouse was built at the entrance and was the home of McGill's porter. From the 1880's through the early twentieth century, it was fashionable to have a family portrait taken against the background of the gatehouse, or other aspects of the campus.
In 1924, McGill acquired a permanent and monumental entrance. Lady Amy Redpath Roddick donated the Roddick Gates in memory of her beloved husband, Sir Thomas George Roddick, a renowned doctor who began the regular practice of sterile surgery using antiseptics and was dean of the Faculty of Medicine from 1901 to 1908. Sir Thomas was a very punctual man and so Lady Roddick decided that the most fitting memorial would be an entrance gate that incorporated a clock tower, complete with chimes at each end. Ironically, the clocks and chimes periodically stop with each of the four faces telling a different time. Lady Roddick commissioned Gratton Thompson to carry out the work on the Gates. His design gave the University the Classical Greek style colonnaded arms that welcome passersby onto the grounds of McGill today.