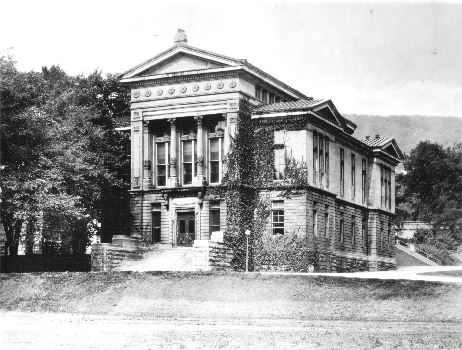 Redpath Museum -- McGill Archives
The Redpath Museum, thought to be the first building in Canada erected for a museological purpose, was donated to McGill in 1882 by Peter Redpath, the president of Redpath Sugar, who also bestowed the Redpath Library upon the University. The three-storey, Montreal limestone Museum was designed by the firm of Hutchison and Steele in the Classical Revival style and is located on a prominent site on the west side of lower campus. Great pains were taken to continue the neo-Greek themes of the facade throughout the structure, especially in the column capitals. The interior of the building offers several storage spaces, labs, a lecture theatre, and a large exhibition gallery that spans the second and third floors. The north end is rounded and is composed almost entirely of windows, allowing light to illuminate the exhibition hall and the first floor lecture theatre for most of the day. Many improvements have been made to the interior over the years to improve the lighting, control the climate, and make better use of available space, but the structure itself remains unchanged.
When it was first opened, the Redpath Museum served as a gallery to house the natural history collections of Sir William Dawson, McGill's principal at the time. These collections are still attracting visitors today, a fact which becomes apparent when one is confronted by the mummies in the entrance foyer and the large dinosaur skeleton in the exhibition gallery.