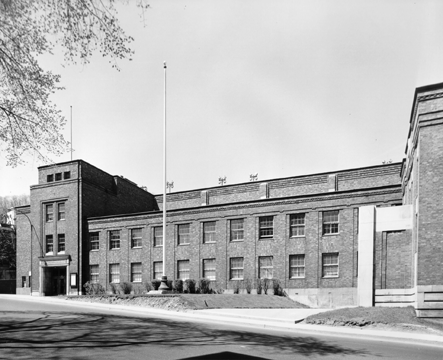 Sir Arthur Currie Memorial Gymnasium -- McGill Archives
The three buildings that currently serve McGill's athletic needs are all located in Macdonald Park, an area of land bounded on the south by Pine Avenue, on the west by University Street, and to the north and east by Mount Royal. This parcel of land was donated to McGill in 1911 by Sir William Macdonald, one of the University's most charitable friends. At one time, the Law family house and the Molson estate, named Piedmont, were located here. In 1920, Macdonald paid for the construction of the Percival Molson Stadium, named after a young, athletic member of the Molson family who had won many trophies for McGill, but was killed by a shell in 1917, during World War I. Percy Erskine Nobbs, a Professor of Design in the School of Architecture at the time, designed the stadium and its fieldhouse. The stadium today is unchanged, except that its stands are much higher than was originally intended. They partially block the view from Douglas Hall, a residence to the north of the stadium.
In 1939, the Sir Arthur Currie Memorial Gymnasium-Armoury was constructed on the north side of Pine Avenue, just east of University Street. Sir Arthur Currie, for whom the gym was named, had been a highly-decorated general in World War I, after which he became principal of McGill from 1920 to 1933, the year of his death. The Gymnasium was paid for in part by a posthumous donation from Lord Strathcona, a long-standing benefactor of McGill, and in part by the Graduate Society which had been raising money and planning for years for this facility. In 1935, the Society held a competition for the best gym design among architectural graduates of McGill; the winner was commissioned to build the Gymnasium. Work on this brick structure was advanced rapidly with the onset of World War II in 1939. Due to its function and the limited funds at the time, no ornamentation was to be found throughout the structure and the swimming pool was not started. The gym ceiling is supported by trusses so that no pillars disturb the floor space. In 1947, the gym was extended and the swimming pool and the Memorial Hall were installed. The marble-floored Hall contains paintings of McGill's history and a wall of the names of all the graduates who gave their lives in the two World Wars. In 1994, an indoor track and tennis courts were added to the east end of the Gymnasium complex by the firm of Werlman and Guy.
In 1956, J.W. McConnell, always a friend of the University, donated the McConnell Winter Stadium just northeast of the Gymnasium. This structure, built by McDougall, Fleming, and Smith, has an arched roof so that the entire interior can be used for stands and a hockey rink. This building, along with the gym and stadium, continues to satisfy the students' need for recreation and activity.
Back to Main Menu

Browse nearby buildings

Built 1920; 1939; 1956
Architects - Percy Erskine Nobbs; A.J.C. Paine; McDougall, Fleming, and Smith
Donors - Sir William Macdonald; McGill Graduate Society; John W. McConnell
Current use - gymnasium; stadium; ice arena


---





Molson House "Piedmont" (1880)
-- Notman Archive (McCord Museum)






Law House (1863)
-- Notman Archive (McCord Museum)