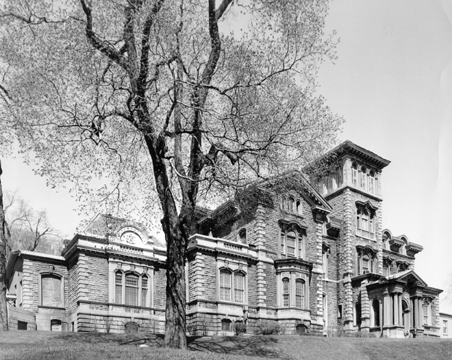 Allan Memorial Institute -- McGill Archives
In 1863, Sir Hugh Allan, the Scottish founder and president of the Allan Lines Shipping Company, commissioned Victor Roy and John Hopkins to construct a house that reflected his wealth and power. This Italianate, villa-style mansion was named Ravenscrag after a Scottish castle and was located at the top of McTavish Street with an imposing view over the entire city. The house, which is divided into many wings, had an asymmetric facade dominated by a large, solid tower which dominates the main entrance. The thirty-four room interior featured a different architectural style in each room. The entrance hall and dining room had Italian themes, the ballroom was French, and the oak-paneled library with ornate furniture was distinctly Victorian. Since the Allans were interested in horses, the fourteen acre estate possessed one of the finest stables on the Square Mile, the entrance of which was marked by a sculpted horse's head.
After Sir Hugh Allan died in 1882, his son and daughter-in-law, Sir Montagu and Marguerite, respectively, inherited Ravenscrag. They enlarged the house, redecorated in a more elegant and lavish style, employed several live-in servants, and filled the stable with prize thoroughbreds at the request of Sir Montagu, the president of the Jockey Club. After Sir Montagu's death, Lady Allan gave Ravenscrag to the Royal Victoria Hospital in 1940. It was renamed the Allan Memorial Institute in 1943. To serve the present needs as a psychiatric hospital and research institute, the interior of the building has been altered and many additions have been made to the exterior.
Back to Main Menu

Browse nearby buildings

Built 1863
Architects - Victor Roy and John Hopkins
Donor - Allan family
Current use - Psychiatric research institute


---


"Ravenscrag" (1902)
-- Notman Archive (McCord Museum)





Stable & Coachhouse (1903)
-- Notman Archive (McCord Museum)





Lady Allan's drawing room (1911)
-- Notman Archive (McCord Museum)





Lounge & hall (1902)
-- Notman Archive (McCord Museum)