The John Bland Archive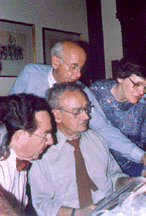 JOHN BLAND, B.Arch. McGill 1933; Diploma in Planning, the Architectural Association, London, 1937; Dr.Sc. (honoris causa) Carleton University, 1975; Professor of Architecture Emeritus, McGill, 1979.
Born in Lachine, Quebec in 1911, John Bland studied architecture at McGill University where he received a B.Arch. in 1933 and planning in London at the Architectural Association School, earning a Diploma in Planning in 1937. Upon graduation, Bland worked in London for the Planning Department of the London County Council and in 1938 he travelled throughout Europe. In partnership with Harold Spence-Sales, Bland designed a number of commercial and public buildings in England as well as prepared planning reports. Bland returned to Canada in the late 1930s and began his long association with the School of Architecture at McGill University: he served as Director of the School of Architecture from 1941-1972 and became Emeritus Professor of Architecture in 1979. During this time he was also actively involved in the design of numerous architectural and planning projects in partnership with Vincent Rother, Charles Elliott Trudeau, Roy E. LeMoyne, Gordon Edwards, Michel Lacroix and Anthony Shine.
The holdings of the CAC reflect Bland's dual career as educator and architect. John Bland was responsible for assembling the materials which now form the archives of the CAC. There are 71 projects from the John Bland Archive that consist of drawings, photographs, and reports. Other literary material, such as his publications, lectures, and unpublished papers, offer insight into the plethora of subjects that captivated Professor Bland's interest. The archive is rounded out with articles by others on John Bland and his work, as well as his personal collection of slides, maps, and books.
---