Spires, Turrets, Sundials, and Weathervanes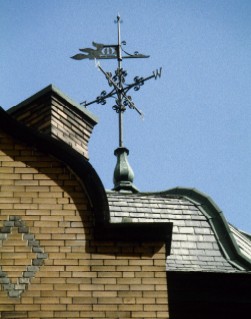 Sundials and weathervanes, products of ancient technology that no longer serve a practical purpose, can none the less remain as ornamental elements in the Montreal landscape.
Sundials were the time devices of the ancient world. And, since these clocks did not rely on mechanically moving parts to record time, they never broke down. Of course, in the absence of sunshine sundials kept no time, but since most ancient civilizations were in areas blessed with a lot of sunshine, they were very reliable time-tellers.
Weathervanes or weathercocks, surmounted on turrets and steeples of buildings, showed the direction of winds (Gazette, 9 November 1985, J10).
---
1110 Pine Avenue, 85'
Bousecours church, 85' Notre-Dame-de-Bonsecours church in old Montreal.???
Diocesan college, 85' ???
Milton 85'
Ridgewood, Aug 85'
Royal Victoria college, 85'
Royal Victoria Hospital, 85'
St Mary queen of the world, 85', Montreal
St. Pierre street, 85'
The Marlborough, 85'