Old Montreal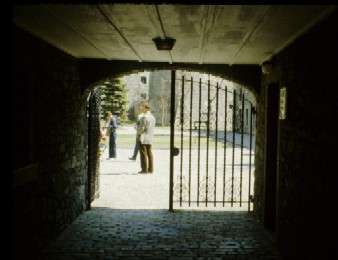 A considerable area, almost one hundred acres of the originally walled-in city, has been recently designated as an historic site. Thus, old buildings and monuments which have withstood the passing of time are now protected from thoughtless demolition and instead are being restored with financial assistance from local government.
The old city is not a musty museum nor is it entirely representative of a particular epoch in the city's history. Buildings dating back to the seventeenth century when Quebec was known as New France are interspersed with many buildings reminiscent of styles prevalent in various times including the present; in close proximity, near the harbour, are to be found the colossal grain elevators and silos which inspired Le Corbusier during his visit to Montreal.
Indeed, old Montreal continues to be a vital part of the city. It contains the seat of municipal government and the courts of justice as well as a number of finance houses along St. James Street. Of late, art galleries, boutiques, many good restaurants add to the charm of this "vieux quartier" (Schoenauer: 1967).
---
City Hall, April 82'
Harbour, Rue de la Commune, April 82'
Rue St. Alexis, April 82'
Rue St. Amable, April 82', Montreal
Rue St. Paul, April 82'
Rue St. Pierre, April 82' ???
Rue St. Vincent, April 82' ???
St. Sulpice April 82'
Youville Stable, April 82', Montreal