Coat of Arms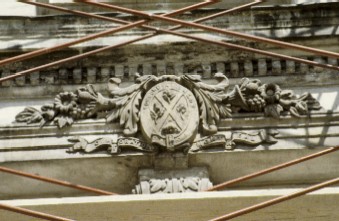 As symbols of identification, coats of arms were commonly employed in the past to decorate buildings. These shields could be read by anyone who was familiar with the particular symbols (properly called charges) represented on the coat of arms.
Families of noble rank have their own individual coats of arms, and often cities, too, have armorial devices, as does Montreal.
The use of armorial bearings by municipal governments is traceable to the 12th century, when the practice of authenticating documents by means of official seals bearing a distinctive and complex device was used to render forgery of the seal difficult. Montreal's coat of arms is, of course, of a more recent vintage (Gazette, 10 August 1985, J8).
---
1581 Dr. Penfield, 85'
1581, Dr. Penfield, 85'
Bank of Montreal, 85' ???
City Hall, June 85'
Corner St. Pierre and St. Jacques, June 85'
MAA Peel Street, 85'
Marche Bonsecours, June 85', Montreal
Masonic Temple, Aug 85'
McGill 85'
McGill Gate, Aug 85'
Notre Dame Street June 85'
Pump house, McGill , June 85'
Royal Bank, Peel, 85'
The Marlborough, 85'
The Marlborough, Aug 85' ????