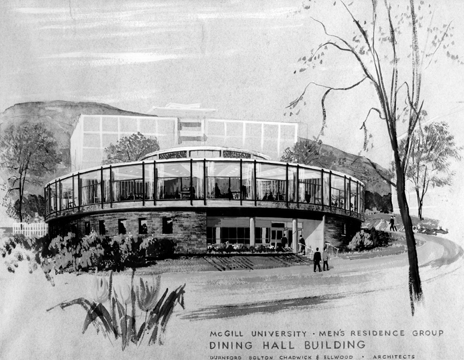 Sketch of Bishop Mountain Hall -- McGill Archives
The upper residences are situated among the trees in Macdonald Park, a parcel of land on Mount Royal donated to McGill in 1911 by Sir William Macdonald, a major benefactor of the University. All of the residences except Royal Victoria College are located in Macdonald Park and are quite removed from the noise and commotion of the city. Originally, all of McGill's residences were designated for men with the exception of the Royal Victoria College, which was reserved for women. Today, RVC remains a women's residence while all of the other residences are co-educational. The upper residences, built in 1961 by the firm of Durnford, Bolton, Chadwick and Ellwood, consist of three separate housing buildings which surround a dining building. McConnell, Molson, and Gardner Halls are identical and provide housing for 672 students all together. Each seven-storey hall is split into two wings by a central stair and elevator core. Approximately thirty-six students are housed on each floor in single rooms, men in one wing, women in the other. There is a kitchenette on every floor and two large, common bathrooms, one per wing. Every room has cement block walls, a large window, and is equipped with built in furniture. There is a large common area, a television room, a study room, and a games room on the ground floor of each hall, and a laundry room in the basement. Other recreation is easily accessible because of the proximity of the Gymnasium and Stadium, tennis courts, the Winter Stadium, the Forbes' Field, and Mount Royal. The exterior of these three halls is of brick, tile, and cement, alternating in regular patterns to allow a window in every bedroom. The entire central stairwell of each building is encased in glass.
Bishop Mountain Hall, named after McGill's first principal, is the dining building in the centre of the residence halls. The two-storey, circular structure contains a reception and administration area on the first floor, and a large cafeteria and kitchen on the second floor. The circular shape was decided upon so that the kitchen and cooking facilities could be located in the core of the building. This allows the outer rim of the second floor to be used as a large circular eating area, entirely encased in glass and able to be divided into four sections by moving partitions.