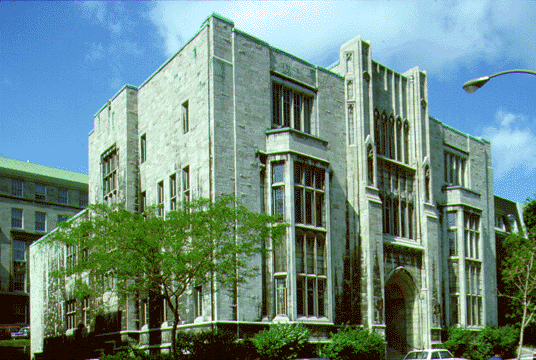 William and Henry Birks Building -- McGill Archives
This structure, known as Divinity Hall until 1972, was originally owned by the Joint Board of Theological Colleges and was built between 1929 and 1931 by Harold Fetherstonhaugh, a student of Percy Nobbs. Its cruciform plan, Collegiate Gothic design, and many architectural details all reflect the religious function of this building without favouring any particular denomination. This concurs with the religious attitudes on which McGill was founded.
Fetherstonhaugh succeeded in giving the Joint Board a well-designed building which was constructed of many high quality materials. Stadacona limestone covers the exterior and lends the facade, with its elegant fenestration, a feeling of mass and stability. The interior contains oak panelling, plaster mouldings, wrought iron, stained glass windows, and carved wood and stone Biblical imagery such as the lamb, the true vine, the rose of the passion, the dove, and the pelican. Although there is much ornamentation throughout, it is not superfluous; it accents the function of the building which currently houses the Faculty of Religious Studies.
Two of the most interesting areas of the Birks' Building are the library, which is oak panelled and features pilasters on the walls, and the chapel, which seats 175 and spans two storeys. Both rooms are well suited to their function. Each library window features a small stained glass emblem in its centre, yet still allows plenty of light to enter this working area. The chapel's height and narrowness give it a Gothic air. A large stained glass window of the Ascension dominates the west end and is accompanied by a series of smaller panels around the top of the nave. Because of these windows, only diffuse light enters this somewhat dim hall creating an aura of calm and serenity quite suitable to a chapel.
The Birks' Building is one of McGill's finest and has served the University well during its 65 years.